Breakfast, Frühstück (Fruehstueck) in German is something I enjoy a lot in Germany with the presence of all foods I like, what else can I ask for: cheese, good newly baked bread, egg and a lot more.
Below is the breakfast I prepared for my visitors when they visited for brunch. It is very rare that relatives and friends visit in Germany, so a visit and to stay for a meal is such a happy occassion for me.
I was also happy to be able to use my antique red breakfast set which was given to me by a friend as she will not need them anymore in Australia, her home country where she will spend her retirement after the death of her German husband.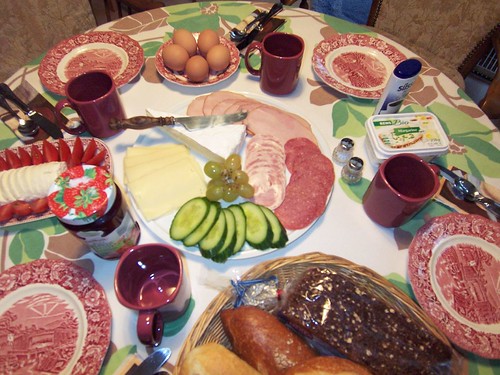 Selection of cheeses and Aufschnitt which means assorted cold cuts (ham, salami, sausages), sliced cucumbers, grapes, marmalade/jam, butter, Nutella and hard-boiled eggs, freshly baked Brötchen and Bremen Coffee - strong black coffee is it.
Cheeses include Mozzarella, Camember, and slices of Gouda
Assorted varieties of Brötchen - German for bun or rolls which is available all day in German bakeries and always freshly-baked and hot from the oven.
Mozzarela Cheese (Mozzarella di Bufala) . I love it combined with slices of fresh and juicy tomatoes and basil leaves to fill my warm Brötchen
A variety of Tomatoes which I discovered in Germany called Datteln Tomaten called as such because its shaped like Arabic Dates called Datteln in German